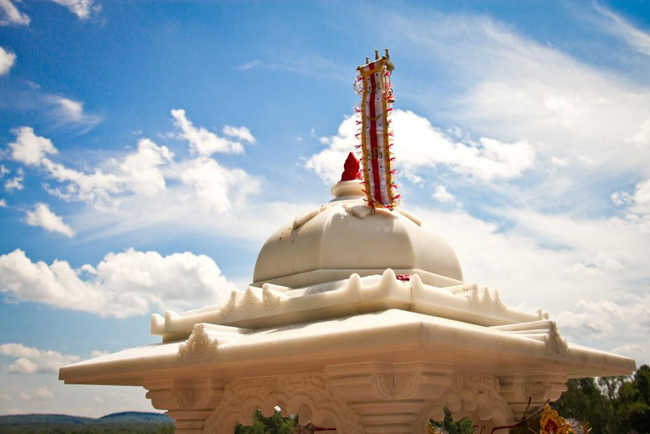 Welcome to the Festival of the Soul!
The 18-day Paryushan-Daslakshan Mahaparv is from Friday, August 22, through Monday, September 8
During this auspicious festival, Jains renew their faith, strengthen their resolve, and empower themselves to live with even greater freedom and joy.
They renew their faith by consciously engaging in practices that promote ahimsa, equanimity and austerity.  For it is rightly said:
Dhammo mangalamukkittham ahimsa sanjamo tabo
Dharma is supremely auspicious. What dharma? Ahimsa, samyam and tapa. Even the gods salute a mind ever set on the path propounded by the Jina
Jains strengthen their resolve to follow the path shown by the Jina by reading and listening to spiritual discourses about His life and doctrine, watching one's thoughts and conduct and engaging in self-examination and correction.
They empower themselves to live with even greater freedom and joy by unburdening themselves. They seek and grant forgiveness from all whom they might have injured or who injured them – in thoughts, words or deeds. And they take vows of self-discipline so they may not burden themselves again and again.  For it is rightly said:
Khamemi save jiva, savve jiva khamantu me | Metti me save bhuyesu, veram majjham n kenai
I grant forgiveness to all living beings. All living being grant me forgiveness. My friendship is with all living beings. Enmity is totally non-existent
And furthermore:
Jam Jam manen baddham, jam Jam vayen bhasiyam pavam | Jam Jam kayen kayam, tass micchami dukkaram
For whatever wrongs I have done by thought, word or deed, I ask forgivenss.
Every Jain looks forward to this annual festival of the soul.  It is for a Jain the most beautiful festival – it gives her or him a chance to grow spiritually and be purer. And that, after all, is the mission of life.
SIDDHACHALAM is an ideal venue during the 18-day festival for one seeking to engage in quiet puja, self-study or contemplation. Opportunities exist for participating in pujas, listening to a monk or a scholar, and reading in the library.  Shared accommodation is available throughout the period. Siddhachalam welcomes all!
SCHEDULE:  Please click here for the complete schedule during the 18-day festival and check your emails for updates.
_____
ANNIVERSARY CELEBRATIONS CONCLUDE
The 31st anniversary celebrations of Siddhachalam and the second of Shikharji at Siddhachalam concluded on August 23, 2014 with ceremonial unfurling of flags atop the Tonks of Shikharji at Siddhachalam and by the conclusion of ceremonial pujas.
The founding of Siddhachalam, establishment of the principal temples, and the replication of Teerthadhiraj Shikharji were all celebratory events: the revolutionary Jain monk, Acharya Sushil Kumarji ("Guruji"), chose Siddhachalam in 1983 as his tapa and karma-bhoomi. Transformed by Guruji's meditations, Siddhachalam soon came to be called a Tirth, a place of pilgrimage. The establishment of the temples in 1991 symbolized that the believers of the Arihants not only wish to live, play and learn together at Siddhachalam, but also pray together. As Guruji said about it in October 1987:
"We are all children of the Arihant. He is our uniting force. We do not want a temple constructed for only a few people. It must be established by the entire society and for the entire world."
Then, 21 years later, we replicated Shikharji here, our most important place of pilgrimage. It symbolized that our enlightened community, free from sectarian divisiveness, was determined to preserve and nourish its beliefs.