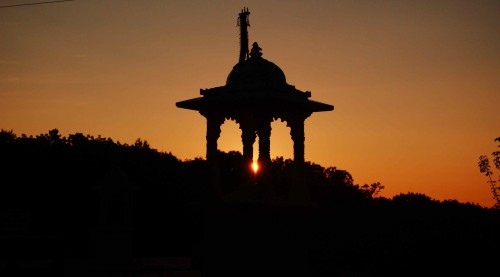 Santhara Conference on Sunday, Oct. 4
Learn about Santhara
Short Window for Appeal
Acharya Sushil Gurve Namah
_________________
Jai Jinendra,
Siddhachalam cordially invites all to join with family and friends to an enlightening conference on Santhara on Sunday, October 4, at the ashram. There is no fee for the daylong conference which will be held in English and Hindi, supported by PowerPoint presentations and video conferencing.
This is an educational conference on an issue that has convulsed the Jain community worldwide. A panel of monks, nuns, and scholars will speak at the conference, in addition to one of the lawyers who represented the Jain community at the recent High Court case and in an appeal filed before the Supreme Court of India.
Santhara
Santhara (also called Sallekhana or Samadhimaran) is an ancient practice of embracing approaching death courageously and without remorse.
The practice has been followed in India, particularly among Jains, for hundreds if not thousands of years in the face of approaching death. Jains celebrate it as an ultimate form of renunciation. As a Jain nun who decided to embrace it told William Dalrymple in his book, Nine Lives: "Sallekhana is the aim of all Jain munis. It is the last renouncement. First you give up your home, then your possessions. Finally, you give up your body."
Is Santhara embraced only by the monks and nuns? Can anyone embrace it? Is permission required in order to embrace Santhara? From whom? Is it only embraced when death is evidently approaching? These are other questions will be tackled in our conference on October 4.
High Court Decision and Appeal
The controversy regarding Santhara came in public view on August 10, 2015. That day, a state High Court in India ruled that anyone embracing Santhara was attempting to commit suicide and anyone assisting such a person was an abettor, and each was a criminal under the law.
The Supreme Court promptly stayed the High Court decision pending its review. Appeals to the High Court decision, fully supported by legal and factual arguments, can be filed within 90 days, that is, through November 9.
Speakers at the Conference
H.H. Manak Muni (via video), H.H. Amrinder Muni, H.H. Bhattarak Charukerthi Swami (via Skype and video), H.H. Samani Suyashnidhi, H.H. Samani Shruthnidhi, Prof. Tikam Chand Jain, Yogi Shanti Parakh, and Shri Dharamraj Khot. In addition, we will also be joined by Advocate Vijay Chaoudhry who represented the Jain community at the High Court and is now representing an appellant in the Supreme Court. Lectures, PowerPoint presentations, panel discussions and Q & A sessions will be held, moderated by Shri Jaipat Singh Jain.
Scriptures to be Discussed
The following Jain scriptures will be covered, among others: Uttaradhyayan Sutra, Acharanga Sutra, the Ashtapradhrut of Acharya Shri Kundakundaji, Antakritdasa Sutra, Avashyak Autra, Aupapatik Sutra, Tattvarth Sutra, Ratnakarand Shravakachar, Bhagawati Aaradhana, and Mrutyu Mahotsav. Additionally, legal aspects will be fully explained and clarified.
Date, Time, Venue
Sunday, October 4; 11:00 a.m. – 4:00 p.m.; Ahimsa Hall, Siddhachalam, Blairstown, NJ
We encourage all to actively participate in this conference and learn about Santhara, an integral Jain tradition that is suddenly controversial.
Respectfully,
Kulbhushan Jain
President​
Previously at Siddhachalam: Spiritually Vibrant Siddhachalam