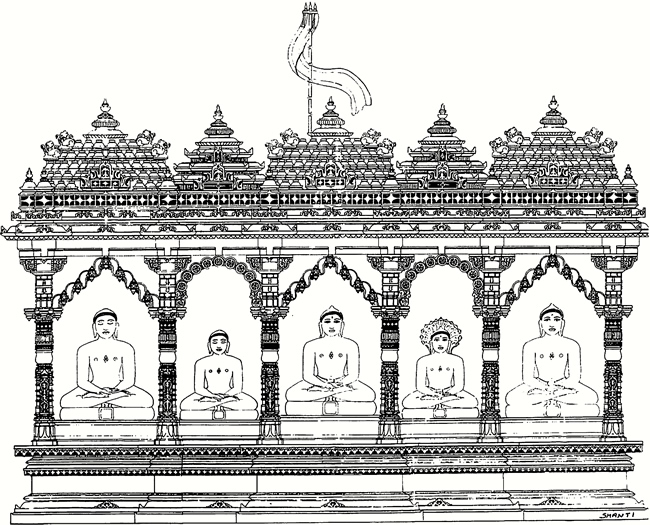 Acharya Sushil Gurve Namah
Please join us for the launch of our weekly
SANGATITH PUJA
Kshamapana Diwas, Sunday, October 5
with
Sharvanji Joshi (our new on-site pujariji),
Pandit Khemchandji of California,
Niravbhai Sanghvi Kadiwala of Ahmedabad, and
Kummarji Chatterjee, vocalist, of Kolkata
Every Sunday, starting October 5, there will be performed at Siddhachalam a Sangatith Jin Puja. Welcome!
SIDDHACHALAM AT 31 The first sangatith puja was held at Siddhachalam 31 years ago on the first weekend of October. Eight years later, the Main Temple was dedicated. Ever since, it has been an illustrious model world-over of a sangatith Jinmandir.
OCTOBER 5 PROGRAM
6:00 a.m.
Temples Open
6:30 – 8:30 a.m.
Abhishek, Ashtprakari Puja, Aarti & Mangal Devo (Main Temple)
8:45 – 10:00 a.m.
Abhishek, Aarti & Mangal Devo (Parsvnath Temple)
10:30 a.m. – 1:00 p.m.
Sangatith Puja comprising Namokar Mantra, Chattari Mangal, Swasti Mangal, Paramshri Swasti Mangal Paath, Swasti Paath, Snatra Puja, Dev Shastra Guru Puja, Shri Adinath Puja, Ashtprakari Puja, Maha-arg, Shantipaath, Aarti, Shanti Kalash, Visarjan