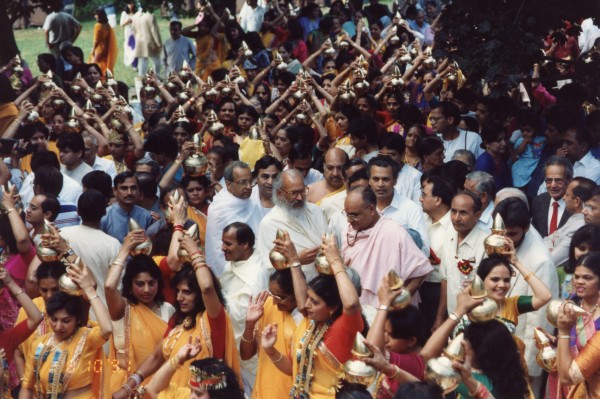 Guruji with others gathered for Pratishtha celebrations
Spiritually Vibrant Siddhachalam
Siddhachalam Tirth (સિદ્ધાચલમ તીર્થ), with its serene and spiritually vibrant surroundings spread over 120 acres, is the home to three exquisite and unique Jain temples. Back in 1991, for the first time in contemporary Jain history, Acharya Sushil Kumarji, the founder of Siddhachalam fondly addressed as "Guru Ji" by his followers, inspired all Jain traditions to come under one unified Jain temple roof at Siddhachalam.
Under his spiritual guidance, an elaborate 10-day Pratishtha (consecration) ceremony was held on August 2-11, 1991. At precisely 11:45am on Thursday August 8, 1991 the auspicious Pratishtha of all Tirthankara images in the temples were formally conducted by priests and monks from all Jain traditions.
The next major spiritual milestone was Shikharji at Siddhachalam, a to-scale replication of the most sacred Jain Teerth, which was completed in August 2013.
Visiting pilgrims can practice and perform pujas in their chosen tradition, or in a Sanghadith (unified) Puja held every day at the temple. They can go on Shikharji yatra to enjoy religious splendor or immerse themselves in Siddhachalam's immensely spiritual surroundings.
Previously at Siddhachalam: A very special New Year 2018 celebration