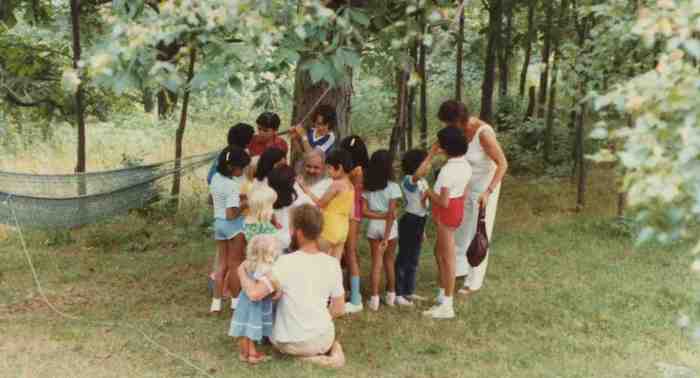 Children and Guruji loved each other's company. Children's camp was a fixture at Siddhachalam during Guruji's stays at the ashram.
Guruji's Birthday – Children's Day at Siddhachalam
June 17-18, 2017
Siddhachalam is delighted to announce holding of Siddhachalam Arhum Youth Camp July 14-16, 2017 for children 10-15 years of age. This year we will celebrate Guruji's birthday (June 15) as Children's Day on June 18, Sunday. We will have yoga, classes, trail walking, sports and cultural events that day for children.  An added attraction this year are addition to our peacock family…come and check it out.  Guruji's Birthday is Children's Day at Siddhachalam.
If you or your children wish to participate, please write to events@siddhachalam.org
Events To Celebrate Guruji's 91st Birthday
Saturday, June 17

9:00 a.m.

Parsvnath Temple
Start of 24-hour Namokar Mantra jaap

Please join at any hour

Sunday, June 18

9:00 a.m.

Parsvnath Temple
Aaarti and Mangal Devo at conclusion of 24-hour jaap

12:00 noon

Guruji's Tapasya Sthal
Chanting with Guruji
Welcome to your ashram!
Previously at Siddhachalam: Guruji Punya Tithi, Run for Ahimsa & 24 Hour Namokar Mantra Jaap